My name is Margo Åkermark. I am born in the Netherlands (Holland), have lived in Latvia for five years and live in Sweden since 1998. I am married to a Swede and our home language is English.

I started my translation company during the year 2007 and have since then translated mostly website and advertisement texts from Swedish or English to Dutch.
My company is registered at the Swedish taxauthorities.

Please feel welcome to contact me just to ask.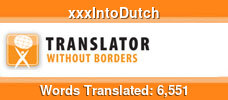 English to Dutch & Swedish to Dutch volunteer translator
I am also a
professional translator
: